Overview
The main question to be discussed at the workshop is what can be learned about the fundamental physics within and beyond the SM by studying the phenomenology of heavy fermions. This includes the physics of B- mesons, top quarks, as well as possible signatures of new heavy (Majorana, vectorlike) fermions, including fermionic dark matter searches, and other related subjects.The aim is to have an intense and interactive phenomenology workshop, with participation of both theorists and experimentalists.
The participation is by invitation only.
Topics
Heavy fermions in the SM

rare decays and CP violation in the B-meson system
top quark physics

Heavy fermions beyond the SM

signatures of Majorana fermions in supersymmetric and grand unified models
phenomenology of new heavy fermions at hadron colliders
fermionic dark matter
Workshop Photo Album
Venue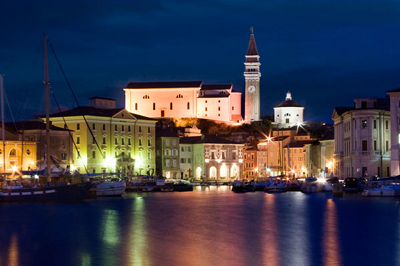 The workshop will take place in Portorož, a resort town on the Slovenian adriatic coast and in direct vicinity of the historic seaport of Piran, famous for its iconic medieval layout with narrow streets and compact houses, rising in steps from the coastal lowland into the hills and give the whole area a typical Mediterranean look.
Please check the map to see the location.
Organization
The workshop is jointly organized by
Local organizing committee
Borut Bajc
Svjetlana Fajfer (chair)
Boštjan Golob
Jernej F. Kamenik
Jure Zupan